I have been featured in articles, on Houston radio, and on local and national television for helping Houston area families with doula services, breastfeeding, cloth diapering education, and hosting events for the natural parenting community in Houston.
Best of
Expertise.com is a website that connects consumers with the top businesses in their areas. I was named one of Houston's best doulas for 2017.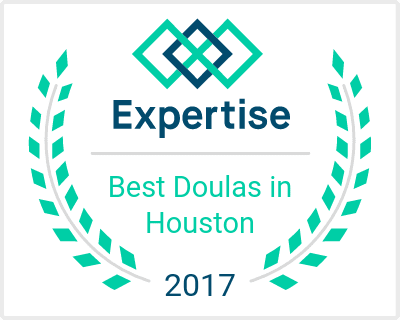 ---
Radio
Whole Mother Radio – Camarie Young of Sweet Baby Pearls Eco Emporium and I were on the radio (KPFT 90.1 FM) with Houston midwife, Pat Jones, talking about Houston Cloth Diapers, the ease and benefits of cloth diapering, and the Houston Natural Parenting Expo featuring the Great Cloth Diaper Change 2015.
---
How Doulas Help Moms Breastfeed – The lactation consultants at Bay Area Breastfeeding & Education celebrated World Doula Week with a blog post about doulas helping moms with breastfeeding. My client, LaKendra, was featured in this article after sending them an email about her lack of family support with breastfeeding and my role in her breastfeeding relationship with her daughter, Kennadi.
---
Television
Cloth Diaper Education – Houston Cloth Diapers co-facilitators were interviewed on the Live Well Network. In this video, I discuss the ease of use and cost effectiveness of using cloth diapers.